Essay On Security Peace And Unity In Nigeria The Outside Wife
Muslim – Christian Cooperation for Conflict Prevention/Management, Peace Building and Reconciliation in Northern Nigeria
By
Kabir Hamisu Kura
Executive Director
Community Development Initiative (cdi)
No 11 Sokoto Road, Nassarawa GRA,
P. O. Box 14089, Kano.
E-mail: kabirkura@yahoo.co.uk
GSM: 0803 314 4162, 0808 554 2212
 A Presentation during the 2010 Christian and Muslim Leaders Conference on Christian and Muslim Cooperation for Conflict Presentation/Management, Peace Building and Reconciliation. Theme: Christians & Muslims Cooperation for Conflict Prevention/Management, Peace Building and Reconciliation. Organized by Programme for Christian – Muslim Relations in Africa (PROCMURA) Nigeria North Area Committee. Held between 6th and 9th October, 2010 at Jacaranda Conference Centre, Kachia Road, Kano.
Preamble
"Believers' harbouring hostile feelings to other people who have faith in God is a moral weakness that displeases God, who prohibits all believers from displaying such feelings. He calls on people to establish peace, tolerance and friendship"
We are living in an era in which we desperately need peace, friendship, and solidarity for peaceful coexistence and sustainable development. The tensions and conflicts that so defined the twentieth century continue in this new century, and innocent people all around us continue to suffer from them. Despite the urgent need for solidarity and cooperation, certain circles are perceived to be inciting ethno-religious conflict, particularly between the two greatest and deep-rooted religions (Isla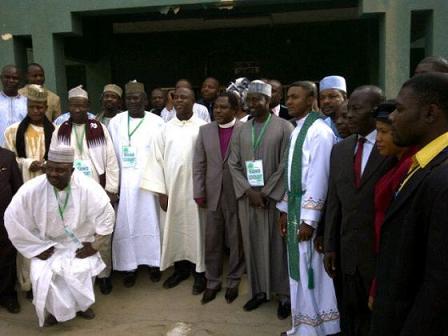 m and Christianity). This issue needs to be scrutinized, as the war of religions that they envisage is having disastrous consequences on us. One of the best ways of preventing such a disaster is to strengthen the dialogue and cooperation between these religions. This is not a hard task, as there are no fundamental differences between Islam and Christianity. To the contrary, there is much common ground between them. Considering the current situation and the nature of the problems, we need shared values that will make cooperation necessary for solving the problems, promote understanding, tolerance, conflict prevention/management, peace building, reconciliation and further the cause of a society dominated by morality, happiness, tranquility, security, and prosperity. This can be achieved by forming an alliance of all conscientious people, namely, sincere and religious Muslims and Christians who will come together and unite in this common cause.
Introduction
There are many nations in the world with different colours, creeds, and languages. These differences have been a cause of enmity throughout history. The perceived wisdom is that people can never manage to co-exist and that disputes arise wherever such differences exist. However, this is a great misconception and the facts are otherwise. In fact, it is God in his own infinite mercy that created human beings in different communities and in the Qur'an, he calls all people to peace and security:
God calls to the Abode of Peace and He guides whom He wills to a straight path. (Qur'an, 10:25)
It is a known fact that, in some parts of Northern Nigeria, there have been reoccurring conflicts and disputes between members of the two religions in recent past, and these can be linked to the erroneous reasoning and evil motives of certain states, nations, and individuals who pursued their own economic and political gain instead of the central beliefs and teachings of the two religions (Christianity and Islam). One of the common aims of these divinely revealed religions is to ensure the happiness, security, peace, and tranquility of all people by opposing conflict.
A sincere believer is one who quest for justice, peace, tolerance, and support for all people to attain peaceful coexistence. There is therefore, the need for cooperation and tolerance through dialogue and alliance among us the believers of the two religions. This dialogue and alliance should not be restricted to meetings and conferences alone, but rather put into practice the promotion of unity in diversity between people who advocate common values, fight for the same cause, and seek permanent solutions to common problems.
Manifestations of Ethno-Religious Conflicts in Nigeria
By ethno-religious conflict, it means a situation in which the relationship between members of one ethnic or religious group and another of such group in a multi-ethnic and multi-religious society is characterized by lack of cordiality, mutual suspicion and fear, and a tendency towards violent confrontation. In Nigeria, it is interesting to note that ethnicity and religious bigotry have become a fulcrum of various forms of nationalism ranging from assertion of language, cultural autonomy and religious superiority to demands for local political autonomy and self-determination. All these sometimes lead to some forms of contextual discrimination of members of one ethnic or religious group against another on the basis of differentiated systems of socio-cultural symbols and religion.
Therefore, in a multi-ethnic and religiously diverse society like Nigeria, with some forms of contextual discrimination, relationships between people may be characterized by lack of cordiality, mutual suspicion and fear as it is the case among the ethnic and religious groups in Nigeria. In fact, this mutual suspicion and lack of cordiality among the various ethnic components explains why ethno-religious conflicts have become a permanent feature of Nigeria as a nation as far back as 1980s to date.
Thus, before the present democratic experiment in Nigeria, there were ethno-religious conflicts that claimed so many lives and property (Mohammed, 2005). Notable among such crises are the maitatsine religious disturbances in parts of Kano and Maiduguri in the early 1980s; Jimeta-Y ola religious disturbances (1984), and Zango Kataf crises in Kaduna State (1992). Others are Kafanchan College of Education Muslim Christian riots; Kaduna Polytechnic Muslim-Christian skirmishes (19811982); and the Cross vs the Crescent conflict at the University of lbadan (1981-1985). Yet other early ethno-religious conflicts include the Bulumkutu Christian-Muslim riots (1982); Usman Danfodio University Sokoto (1982); and the Muslim-Christian Clash during a Christian procession at Easter in Ilorin, Kwara State (1986).
Against the background provided above, it then means that since a long time ago, many parts of Nigeria have become theatres of war, characterized by an increasing number of ethnic and religious crises. The spate of ethno-religious conflict in Nigeria has however, increased with the birth of Fourth Republic. The frequent occurrence of ethno-religious conflicts with the coming of democracy is due to freedom provided by democratic rule. The first leg of ethnic and religious riots in Nigeria in recent time was in July 1999, when some Oro cultists in Sagamu, in Ogun State accused a Hausa woman of coming out when the cultists were outside with their gnome. This led to some altercations, which eventually led to full-blown crisis. Many people, majorly of Hausa and Yoruba tribes lost their lives. The infamy was however, temporarily put to check only when a dusk to dawn curfew was imposed on the sleepy town of Sagamu. Unfortunately, however, as the infamy was put off in Sagamu, reprisal killings started in Kano, a major Hausa city. As a result, many people died and property worth billions of Naira destroyed. Kano residents of Southern extraction who had lived, all their, adult lives in the ancient city of Kano had to return to their native land to count their losses. When Kano City was settling down for peace, Lagos erupted with another orgy of violence, visibly as a mark of vengeance of the Kano mass killing of the Yoruba tribe men. This time, the O'dua People Congress moved against the Hausa/Fulani traders in the popular 'mile 12 market' and for two days, the area was turned to a killing field. Another ethno-religious conflict that left a remarkable mark in Nigeria was the Kaduna/Enugu riots. The root cause of this set of riot was the introduction of the Islamic Legal Code (Sharia) by some goverl}ors of the northern states of Nigeria. Governor Ahmed Yerima of Zamfara State first introduced the Islamic Legal Code in October 1999, which was greeted with pockets of unserious protest. Initially, no many harms were committed as a result of the protests over the introduction of the Sharia code.
However, the hitherto subdue fire was ignited when Governor Mohammed Makarfi of. Kaduna State tried it in February 2000. Because of the deep seated animosities between the Muslims and Christians in Kaduna State in general and the state capital in particular, coupled with the fact that both are almost at par in population, the two went for their swords and many were slained in cold blood.
In the Kaduna riots, the Igbo tribe (a predominantly Christian ethnic group) was mostly affected. However, like the Sagamu incident, and as it should be expected, Enugu and other Igbo cities erupted in violence when many Igbo returned dead and those who were lucky to escape had tails of woe to tell, as they too were targets of attack by the Hausa/Fulani in Kaduna. It is important to note here that the Kaduna/Enugu ethno-religious riots presents some features that look like the prelude to the 1967-1970 civil war in Nigeria. In other words, the riots constituted sufficient force that could lead to a civil war as law and order collapsed in the two areas.
In October, 2000, another ethno-religious conflict occurred. This was the Lagos-(Idi-Araba/Oko-Oba) Kano myhems. The cause of this was the misunderstanding between the Hausa residents and the Yoruba in Idi-Araba in Lagos over the use of a convenience by a Hausa resident, as a result of this misunderstanding many Yoruba residents of the area were killed with bows, arrows and machetes. Responding; the O' dua People Congress (a Yoruba militia) came into the picture and things worsened. Later, Oko-Oba, another Lagos suburb with a high population of Hausa/Fulani stock joined the fray of madness. The violence later spread to Kano and as expected the southerners were mostly the victims.
In September 2001, the ethnic tension between the Tivs and Iunkuns in Plateau State reached a head after decades of fighting. The September 2001 ethnic tension was caused by what can be called a mistaken identity. What this means is that some Tivs took some nineteen soldiers to be Junkuns but in fake army uniform. The Tivs youths captured them and slaughtered them one by one. The reprisal attack by the men of the Nigerian army in Zaki Biam was devastating. Also in the same month Jos, the Plateau State capital city, joined the madness. The cause of this was the appointment of a Christian as a Local Council Chairman. It is interesting to note that by the time sanity found its way back to the city, more than hundred and sixty (160) lives had been lost in the mayhem.
In the following month of the same year, that is October, 2001, there was another' mayhem in Kano. This was, however, caused by an international event when some terrorists attached the twin towers of the World Trade Centre in the United State of America. Shortly after the United States launched an offensive against the Taliban government in Afghanistan, Kano erupted with another round of ethno-religious conflict. In this case, some Islamic fundamentalists who felt that the United States of America had no reason to bombard Afghanistan decided to set the city of Kano on fire. Like the earlier crises in the city, the Southern tribes in Nigeria were mostly the victims of the Kano ethno-religious conflict. All the crises events presented above and which occurred before and since the coming of democracy in 1999, remain stark reminders that the conflict hot beas around the country are always steaming and ready to explode at the slighted provocation. From the various examples of ethno religious conflicts cited, it can be seen that there is no sharp distinction between ethnic conflict and religious conflict. What this means is that a Conflict that begins as an ethnic 'conflict may end up as a religious crisis and vice-versa. This explains why ethno-religious conflicts in Nigeria are always devastating in their effects.
Causes of Ethno-Religious Conflicts in Nigeria
The events of ethno-religious conflict that have pervaded the country as reported above are also stark reminders that the conflict hotbeds around the country are many and may still be waiting to explode – May Allah prevent it. This shows that, the ethno-religious conflicts are evils that are always around us and which as claimed by Jega (2002:36) tend to always stretch the bounds of unity to a potentially snapping point. The most logical question that arises from the above is what are the causes of these ethno-religious conflicts in Northern Nigeria?
As we have seen so far in this discuss, ethno-religious conflict is distinguished from other types of social conflict in that it involves ethnic groups, which are of different religions. In discussing the causes of ethno religious conflict in Northern Nigeria therefore, it is important to mention at this point that both religious and ethnic factors are present in the majority of social conflicts the Northern Nigerian people have witnessed. Religion and ethnicity as they present themselves in Nigeria have therefore become critical factors in ethno-religious conflict. At different levels and times people experience religious or ethnic discrimination, people complain of past and present religious and ethnic discrimination, people demand for religious or ethnic rights in their state, and more importantly, the state uses religion or ethnicity in political discourse or action. What the above means is that ethno-religious conflict is a multi-causal variable. For effective discussion of the causes of ethno-religious conflicts in Nigeria therefore, there is a need to put this into consideration.
A major cause of what we now see as ethno-religious conflicts in Northern Nigeria has to do with the accusations and allegations of neglect, oppression, domination, exploitation, victimization, discrimination, marginalization, nepotism and bigotry. In every nation (Nigeria inclusive), there is no complete agreement on how wealth, power and status are to be shared among individuals and groups. There is also no agreement on how to effect necessary changes and reforms. This is because, different groups and individuals have diverse interests in which case, some groups will have their aims met, while others will not. What this means is that conflict (ethno religious ones inclusive) usually occur when deprived groups and individuals attempt to increase their share of power and wealth or to modify the dominant values, norms, beliefs or ideology. Thus, in Nigeria and going by the various examples of ethno-religious conflicts cited earlier. There seems to be a divisive interplay of politics, ethnicism and religions, which has consequently led to the rising nationalism and militancy of various ethnic and religious movements. It is interesting to note that the overall consequence of this is the escalation of various ethno-religious conflicts that are witnessed all over the country today which are meant to correct any perceived form of marginalization, oppression or domination.
It is important to note here too that the failure of the Nigerian leaders to establish good governments, forge national integration and promote what can be called real economic progress, through deliberate and articulated policies, has led to mass poverty and unemployment. This has resulted into communal, ethnic, religious and class conflicts that have now characterized the Nigerian nation. Poverty and unemployment have therefore served as nursery bed for many ethno-religious conflicts in Nigeria because the country now has a reservoir of poor people who warmongers as mercenary fighters. What this means theoretically is that poverty and unemployment increase the number of people who are prepared to kill or be killed for a given course at token benefit. This explains why all ethno-religious crises that ever occurred in Nigeria have a large turnout of people (including the under-aged) as fighters.
A very important cause of ethno-religious conflicts in Northern Nigeria is the breakdown of such vehicles of social control that characterized the traditional African societies such as. the family, education, law, religion and political system that cared for the well-being of ail citizens. Indeed, the malfunctioning of all these important institutions has actually increased ethnic and communal conflicts in Nigeria. For instance, the inability of many homes to make the ends meet with the family income tends to increase immorality, broken fatherless/motherless homes, divorces and drunkenness, leading again to a large reserve of youths who could be employed for execution of ethno-religious conflicts. It is also important to note that the school system in Nigeria today is in shambles and cannot impact even sound knowledge, let alone instill discipline and desired type of morality. The religious institution is also not playing its expected roles, while the law enforcement agents indulge in crimes, demand bribes and collect illegal levies from motorists openly and, shamelessly. All the above constitute a wrong signal to the social and encourage social vices in the society thereby laying the foundation for conflicts in general.
Our security operatives' orientation tends to encourage and legitimize the use of force and violence as instruments of social change and attainment of set goals and demands. From this, it is customary to see that, the use of coercion and force in settling conflicts has become a tradition in the Nigerian body politics. Strongly related to this is the uncontrolled arms supply, which has quickened the outbreak of; conflicts, and encourage belligerents to go on fighting rather than find peaceful settlement to disputes.
As noticed by Ikejiani Clark (2005) over the years, many events in Nigeria have led to the politicization of mistrust, intolerance, violence and acrimonious relations between the mainly Moslem north and the Christian south of Nigeria. To this extent, Ikejinai-Clark contended that there has been an unfortunate insertion of ethno-religious discrimination and incompatibility in the structures of the Nigerian State since the colonial period. In 1931 for instance, the colonial administration under the leadership of Governor Donald Cameroun did not encourage intermingling of religions. An advice given by the governor is indicative of this. The Governor advised the Christian missions to thread softly in Moslem areas so as to maintain the stability of indirect rule. The political events of the January 15, 1966 coup and the July 1966 counter-coup further entrenched ethno-religious configuration in Nigeria. This is because the killings and counter-killing that follow the coups which took ethnic and religious colorations as the Muslim dominated tribes in the north were set against the Christian dominated tribes of the southern region.
Islam and the Promotion of Peace
Islam, a religion of peace, tolerance and acceptance, requires believers to treat all people with justice and respect. Devout Muslims are tolerant, forgiving, modest, understanding, gentle, genuine, and honest. In fact, God commands them to be just even when it is not in their own interests or those of their families to be so; to feed orphans and prisoners of war first, even if they are hungry themselves; and to be selfless, patient, and firm in virtue. Such Muslims are far more accepting of non-Muslims, for they know that compulsion is disallowed in religion. When dealing with non-Muslims, they do their best to show the way to the right path, address the other person's conscience, and become the means of this person's acceptance of a virtuous life, which is only possible if God grants him or her faith.
It is a known fact that, throughout Islamic history, the People of the Book have been always treated with tolerance in Muslim societies. This was particularly evident in the Ottoman Empire. It is a well known fact that the Jews, whose rights were denied and were exiled by the Catholic Kingdom of Spain, took refuge in the lands of the Ottoman Empire. When Sultan Mehmed the Conqueror captured Istanbul, he granted both Christians and Jews all their fundamental rights. Throughout Ottoman history, Jews were regarded as a People of the Book and enjoyed peaceful coexistence with Muslims.
Non-Muslims in the Period of the Prophet Muhammad (pbuh)
When we examine the relations of the Prophet Muhammad (pbuh) with the people of the Book during the first years of Islam, we see that he co-operated with Christians. When Muslims were subjected to cruelty by pagans in Mecca, the Prophet Muhammad (pbuh) told them to migrate to Ethiopia, a place where Christians lived at that time. King Negus, the Christian ruler of that country, accepted the migrant Muslims and protected them against oppression.
The Qur'an also gives the example of Jesus's disciples to other believers for their loyalty to God and His messenger. There are also striking similarities between the first Muslims and the first Christians.
The tolerant attitude adopted by the Prophet Muhammad (pbuh) towards Jewish communities also sets a good example for all believers. During the period of the Constitution of Medina, the Prophet Muhammad (pbuh) treated Jews kindly and tolerantly. He encouraged that there be co-operation, counseling and goodness between Muslims and Jews. Indeed, this was put into practice in daily life. This just and tolerant attitude of the Prophet (pbuh) surely applied to all people from all religions and races. Despite treachery, attacks and plots, the Prophet (pbuh) always forgave the perpetrators in compliance with the verse "those who pardon other people" (Qur'an, 3:134). And as the verse suggests, "Call to the way of your Lord with wisdom and kindly instruction, and discuss (things) with them in the politest manner…" (Qur'an, 16:125), he always summoned people to Islam with gracious advice.
Recommendations
In view of the aforementioned, It is my sincere hope that this forum with Allah's guidance and help achieve lasting peace and peaceful coexistance in Northern Nigeria and by extension Nigeria. I therefore offer the following recommendations:
Need for more integrated and articulated programmes of conflict prevention. Such programmes should be able to effectively resolve and prevent ethno-religious conflict as the case may be. Emphasis should be on Early Warning Signals (EWS) monitoring and detection.
Encourage the formation of effective and functional platforms like PROCMURA for ethno-religious leaders so that through them it would be possible to establish a network for conflict prevention and management at the grass root.
The youth and in particular in school and out of school should be targeted education and sensitization on conflict prevention/management, peace building and reconciliation.
Media sensitization for wider societal reach.
Conclusion
Given the deplorable state of Northern Nigeria in development indices, Muslims and Christians have opportunities to engage in programs that will alleviate poverty, advance the freedom of the citizens of the country. The dialogue of action is an important means of curbing religious violence in Nigeria. Both Islam and Christianity preach peace, social justice, and charity.
In both the Muslim and Christian tradition, there exist a deep spiritual heritage. Dialogue can exist at this level. Muslims and Christians can share their religious and mystical experiences with each other. Muslims can learn from Christians as well as Christians learning from Muslims. This will help to clarify the false positions held by both Muslims and Christians.
Muslim – Christian relations in Nigeria is a very complex set of relations given the many Islamic and Christian sects in Nigeria. The history of the country as well as the history of the religious groups is complicated. This discuss is in no way exhaustive but a reflection on some of the major events in the history as well as the major issues involved in a discussion of Muslim – Christian relations in Northern Nigeria.
Muslims have an honourable past with justice, mercy, tolerance, compassion, conscience displayed and the noble values they possessed. A God fearing Muslim avoids all kinds of behaviour which will not be pleasing to Allah. The social life marked by peace and tolerance during the administration of the Prophet Muhammad (pbuh), the caliphs succeeding him and other Muslim administrators, depended on commitment to the Qur'an. There is therefore, nothing to prevent the Muslims of today drawing lessons from past experiences and re-establishing cooperation, peace building, conflict prevention and reconciliation for peaceful coexistence brothers and sisters whom God created and put an end to cruelty and promote unity.
LET'S STOP TALKING ALONE, BUT RATHER WORK THE TALK
SAND AND STONE
TWO FRIENDS WERE WALKING
THROUGH THE DESERT.
DURING SOME POINT OF THE
JOURNEY, THEY HAD AN
ARGUMENT; AND ONE FRIEND
SLAPPED THE OTHER ONE
IN THE FACE.
THE ONE WHO GOT SLAPPED
WAS HURT, BUT WITHOUT
SAYING ANYTHING,
WROTE IN THE SAND:
TODAY MY BEST FRIEND
SLAPPED ME IN THE FACE.
THEY KEPT ON WALKING,
UNTIL THEY FOUND AN OASIS,
WHERE THEY DECIDED
TO TAKE A BATH
THE ONE WHO HAD BEEN
SLAPPED GOT STUCK IN THE
MIRE ! AND STARTED DROWNING,
BUT THE FRIEND SAVED HIM.
AFTER HE RECOVERED FROM
THE NEAR DROWNING,
HE WROTE ON A STONE:
"TODAY MY BEST FRIEND
SAVED MY LIFE ".
THE FRIEND WHO HAD SLAPPED
AND SAVED HIS BEST FRIEND
ASKED HIM, "AFTER I HURT YOU,
YOU WROTE IN THE SAND AND NOW,
YOU WRITE ON A STONE, WHY?"
THE FRIEND REPLIED
"WHEN SOMEONE HURTS US
WE SHOULD WRITE IT DOWN
IN SAND, WHERE WINDS OF
FORGIVENESS CAN ERASE IT AWAY.
BUT, WHEN SOMEONE DOES
SOMETHING GOOD FOR US,
WE MUST ENGRAVE IT IN STONE
WHERE NO WIND
CAN EVER ERASE IT."
LEARN TO WRITE
YOUR HURTS IN
THE SAND AND TO
CARVE YOUR
BENEFITS IN STONE.
THEY SAY IT TAKES A
MINUTE TO FIND A SPECIAL
PERSON,AN HOUR TO
APPRECIATE THEM,A DAY
TO LOVE THEM,BUT THEN
AN ENTIRE LIFE
TO FORGET THEM.
TAKE THE TIME TO LIVE!
DO NOT VALUE THE THINGS
YOU HAVE IN YOUR LIFE, BUT VALUE
WHO YOU HAVE IN YOUR LIFE!
"Be kinder than necessary, for everyone you meet is fighting some kind of battle."
Widespread Violence and Heightened Tension in
After years of military dictatorship, the worst form of which was manifested in the Abacha dispensation, Nigerians had hoped for a period of peaceful transition to a just, equitable, democratic and prosperous society. We had hoped for a new Nigerian society where we can once again have the opportunity to channel our enormous natural endowments to positive use for the advancement of our teeming population We had hoped for a new Nigerian society where we can celebrate the richness of our diverse languages, cultures and religions. We had hoped for a new Nigerian society where we can take our rightful place in the comity of nations, and compete in the advancement of science and technology.
Three and a half years have gone by now but rather than make progress towards the realisation of our dreams, the Nigerian nation appears to be more fragmented than ever before. Three and a half years into our new democratic experiment, Nigerians as a people seem to be more divided than they ever were since independence. This tense and gloomy political scenario is further compounded by the violent crimes of armed robbery and hired assassinations that have become very rampart.
The divisions and the resultant tensions are played out every day in violent conflicts on the streets, in market places and in neighbourhoods, as Nigerians hound their fellow citizens to death and set their properties on fire at the slightest provocation. They are often reflected on the floor of the state and national assemblies, where the honourable men and women sometimes need the anti-riot police to keep the peace. They are implied in the frosty relationship between the executive and the legislature, that has reached its climax in the on-going impeachment saga, making the Nigerian brand of democracy look like an exercise in mutual acrimony, rather than the "government of the people by the people for the people."
The many conflicts that have plagued post-military , sufficiently demonstrate that we have been sitting on a pile of explosives that are now exploding in every direction, and sadly, there is no end to these crises. It has been an orgy of violence: From the onslaughts of the angry Egbesu youths of the Niger Delta, to the atrocities of aggrieved OPC youths of the South West, and from the senseless killings among the Ife/Modakeke, Aguleri/Umuleri, Tiv/Jukun and Egbura/Bassa, to the crazy Sharia campaign in many parts of the North that has shaken the very foundation of the nation, it has been a season of blood and tears. Precious human lives have been destroyed in their thousands, and property worth hundreds of millions of Naira have been set ablaze. We have witnessed thousands of internally displaced persons or refugees squatting in police and army barracks all over the place.
As a result of these sad developments, the Nigerian economy remains comatose. Investors have been scared away, in spite of President Obasanjo's numerous overseas travels. With the circumstance of widespread violence and great insecurity in the land, potential investors seem to have decided to watch and see. Unemployment remains high and the mass of the people are plagued by acrimonious poverty, with the lot of many worsening by the day. Thus three and a half years after we said goodbye to military dictatorship, we are witnessing what appears sadly as another round of aborted dreams, broken promises and dashed hopes. Once again our leaders have failed to deliver, and we are once again being challenged to go to the drawing board.
The unfortunate turn of events in the last three and a half years surely bring to the fore the imperative of forgiveness as part of the dynamics of conflict resolution towards national reconciliation and peaceful co-existence. Perhaps the people of Nigeria along with their leaders had underestimated the extent of the problems that had built up in the land over the years of debauchery, when social injustice, economic isolation and political banditry reigned, breeding widespread anger and resentment that were kept in check all the while only by military might. With the violent conflicts that have erupted in the North and South, and in the East and West, over unresolved ethnic, religious, political and economic differences, and over boundaries and the ownership of land and other resources, Nigerians must now realise that there is a lot of structural defect in the Nigerian society that are a potential source of conflict. This is a challenge we must take up and address courageously.
Many in the Igbo nation remain are resentful of the rest of Nigeria for the injustices of the 1967 to 1970 civil war, the abandoned property imbroglio, and the alleged post-war marginalisation of Igbo people in some vital segments of the national economy. Many in the Yoruba nation are angry with the rest of for the injustices associated with the June 12 election annulment, and the alleged post-June 12 persecution and marginalisation of Yoruba people. The collocation of small ethnic nationalities which we call the Middle Belt are today vexed by the appendage status accorded them in the power structures of our nation. Many of them allege that they have suffered numerous injustices because of being falsely associated with the North all this time, while they gained nothing from the Northern hold on political power.
The citizens of the oil producing Niger Delta are poised for a show down with the rest of Nigeria, and if recent clashes are anything to go by, their youths appear to be well equipped for war with the rest of Nigeria, because of the callous exploitation of their natural resources for decade, while they are abandoned in a state of destitution. Many among the Hausa and Fulani Muslims of the core North who desire to live under the supremacy of the Islamic Sharia are incensed that the rest of Nigeria wants to jettison what they see as their religious freedom. Within each group, there is often bitterness over past hurts and wounds which have never been seriously addressed.
Christ's Radical Message of Love
The passage of Luke 6: 27-38 forms the climax of Jesus' teaching on the new order, the order of mercy, compassion and sacrificial love, by which he seeks to replace the old order of hatred, vengeance, and violence among men and women. He says: Love your enemies, do good to those who hate you, bless those who curse you, pray for those who persecute you. To the man who slaps you on one cheek, present the other cheek too; to the man who takes your cloak from you, do not refuse your tunic. Give to everyone who asks you, and do not ask for your property back from the man who robs you. Treat others as you would like them to treat you… If you love those who love you, what thanks can you expect? Even sinners love those who love them… Instead, love your enemies and do good, and lend without any hope of return. You will have a great reward, and you will be sons of the Most High, for he himself is kind to the ungrateful and the wicked… Be compassionate as your Father is compassionate…for the measure you give out is the measure you will receive.
With these directives of Jesus we see a complete reversal of the old accepted order in human behaviour. What is characteristic about Christian ethics is not mere love, for all religions seem to preach love in one way or the other. What is unique about the Christian faith is that it calls its adherents to love the enemy! My enemies include those who hate me, those who speak evil of me; those who accuse me falsely, those who persecute me; those who criticise me, those who irritate me; those who are aggressive towards me by their manner of thinking and acting; those who persecute me or my group; those towards whom I have an aversion. People generally love their friends and hate or at least resent their enemies, and no one sees anything wrong with that. The Israelites were expected to love and be kind towards their neighbours (that is fellow Israelites), but they did not see any reason why such gestures should be extended to non-Israelites or Gentiles who were often at war with them. These others belonged to pagan nations which had at one time or the other killed their people, enslaved them, exiled them, or pillaged their land. Even among the Israelites, enemies were meant to be tolerated, and not loved. Offenders or aggressors were supposed to be given the same kind of treatment as they have given their victims.
So the prevailing law was that of an eye for an eye, and a tooth for a tooth. So asking that such offenders, aggressors or enemies be loved and be prayed for was a totally revolutionary idea that hardly had any basis in their history, except isolated cases as the encounter between the young David and king Saul. Saul meant to kill an innocent man David, and was out in the wilderness with troops in search of him. But as it turned out, David who was fleeing from the king, found him and his men in deep sleep. He had the opportunity to kill him and be free. His companion said to him: "Today, God has put your enemy in your power; so now let me pin him to the ground with his own spear." But David answered: "Do not kill him, for who can lift his hand against the Lord's anointed and be without guilt?
Jesus not only taught his disciples to love their enemies and pray for those who treat them badly, he lived and died that way himself. In his life, Jesus had to put the ethic of loving generosity into action, and this was a painful and bloody affair. It cost him everything. He offered his love, even though he knew that the response of the people would be rejection. His love was not a matter of social contract. He never bargained love for love. He never loved so that he may get love in return. He loved because that is his nature, the nature of God. He often always overwhelmed, confused and disarms his enemies by the outpouring of his immense love. St. Paul reflects on the life and death of Jesus and declared that what shows the depth of God's love for humanity is that while we were yet sinners, Christ died for us (Romans 5:8). The unusual kindness and generosity Jesus showed his enemies is demonstrated in the fact that he healed one of the soldiers who had come to arrest him, and whose ears were chopped off by Peter. And while reeling in pain on the cross of , he prayed for his executioners. He forgave Simon Peter who had denied him three times and made the same man the head of his Apostles.
The question is: Do we as Christians take our cue from the treatment we receive from others, or do we live in accordance with our nature and the nature of our merciful, compassionate and generous Father in heaven? When faced with hate, and when we are hurt by those who do not know any other way of living except by wickedness and violence, do we react with the logic of "an eye for an eye, and a tooth for a tooth," or do we react Christians who appreciate the dynamics of sacrificial love? Jesus teaches his disciples with his own life example never to be provoked into taking retaliatory action for wrongs done against them. Their response should always flow from the nature of their discipleship, and not from the wrong they have suffered.
The love the Christian gives people is not related to the love they receive from others. The disciple loves because love is the fundamental character of Christian discipleship. The disciple loves because he or she is the son or daughter of the heavenly father who is so gracious that he does not withhold the sun and the rain from those who oppose him. What Jesus asks his disciples to do is simply to imitate God – God who is merciful, compassionate, loving and forgiving. The old law prescribed that the Jews must love their neighbours and hate their enemies. But in asking Christians to love their enemies, Jesus rejects the limitation of love to only those in our immediate environment. No one is excluded from Christian love, not even the persecutor of the Christian faithful.
Christian life is a continual attempt to transcend the values and conventions that are regarded as absolute in the human society. Like Jesus, the true Christian necessarily subverts the established order, when he put love, mercy and compassion over and above the demands of mere distributive justice. The true Christian who strives to live out the logic of Christ will often be regarded as a fool or an eccentric. The true Christian takes seriously Christ's admonition to be compassionate. He or she knows that those who hate are in need. They are often living with broken and divided hearts. Those who hate are often living with the misery and agony of fragmented and unfulfilled lives. Like everyone in need therefore, the Christian is called upon to show compassion to such people, never judging and never condemning them.
The action of Christians who attempt to live like Jesus with such a generous heart towards the enemy or aggressor often merits scorn. They often appear foolish in the eyes of the world and those who have reconciled themselves with the evil status quo. But that is the only way to break the endless cycle of violence which crushes the human society By following Jesus' teaching, the Christian as it were, steps outside the spiral of violence to live in a different way. True, hatred can only be defeated by love, not by counter hatred. Injury can only be healed by forgiveness, not by vengeance. Evil can only be controlled by goodness, not by more evil, for darkness cannot drive away darkness. This is Jesus' wisdom, the wisdom by which he saved the world.
Jesus expects his disciples to generously share the gifts they have received. The Christian therefore offers love, because he or she has been a beneficiary of God's tremendous love, and now he must share it with other, irrespective of their own disposition. The Christian offers love because there is someone somewhere who is harassed by hatred and who needs love, even when the person does not realise his or her need. The Christian offers mercy and compassion because someone somewhere is crushed by wrongdoing. Love, mercy and compassion are gifts of God which create worth in another person. They build temples in the wasteland of hatred, violence and death. Love, mercy and compassion are gifts which introduce people to the forgotten geography of paradise. And they stop the contagion of a meaningless existence. Love creates its own reality. It creates its own force for goodness.
True, love does not always transform the enemy into a friend. Love did not transform Jesus' enemies into friends. He loved graciously, but he got killed in the process. Yet Jesus stuck to his logic of love, because he is the Son of God. Love is his way of life, and he will live it, no matter what or who appears in front of him. He will love, even when confronted with the worst enemy. Does this logic of Jesus mean that God accepts evil? No! Never! God has nothing to do with evil. God condemns evil, but he loves everyone, even the person who practices evil. He hates evil, but loves the evil doer. This is the mystery of God love, mercy and compassion.
The Christian Imperative to Forgive
The God of Abraham, Isaac and Jacob, the father of Jesus Christ, is known as the God of mercy and compassion (2 Chron.30:9; Psalm 100:5; Psalm 111:4). He is a God who is rich in mercy; whose anger is for a while, but whose mercy is everlasting. The God we serve is so merciful that he sent his only son to die in our stead, so that we may no longer have to bear the full consequence of our sins (John 3:16). The God we serve allowed his Son to be killed, as an act of mercy and forgiveness, so that his kingdom of love and compassion, his kingdom of forgiveness and reconciliation, his kingdom of peace and happiness, might be established.
Having sacrificed himself for us, the Son of God made love, forgiveness, mercy,and compassiontowards those who offend us as the "conditio-sine-qua non" for our admission into his kingdom. He says in Matthew 5:7 "Blessed are the merciful for they shall obtain mercy. In Luke 6:36 he says: "Be compassionate just as your heavenly father is compassionate..." He adds that "the measure you give out is the measure you will receive. Jesus told those who challenged his dining with sinners: "Go and learn what this means, "I desire mercy and not sacrifice." For I came not to call the righteous, but sinners" (Mt. 9:13).
While explaining the Lord's Prayer to his disciples, he says (In Mt. 6:19), "if you do not forgive your neighbour who sins against you, your heavenly father will not forgive you your own sins also. And in the parable of the unforgiving debtor, whose debts were cancelled when he pleaded with the master, but who dealt ruthlessly with his fellow servant, Jesus said: "that is how the heavenly father will deal with you unless you each forgive from your heart (Matthew 18:35). The author of Ecclesisticus puts it powerfully thus: Resentment and anger, these are foul things too, and a sinner is a master at them both. Whoever exacts vengeance will experience the vengeance of the Lord, who keeps strict account of sin. Pardon your neighbour any wrongs done to you, and when you pray , your sins will be forgiven. If anyone nurses anger against another, can such a person then demand compassion from the Lord? Mere creature of flesh, yet cherishing resentment - who will forgive one for sinning? (Ecclesiasticus 27:30-28:5). Thus, nursing anger or cherishing resentment is dangerous for our health and salvation. It disables us and renders us defenceless when we seek the forgiveness of our own sins.
In what we know as the golden rule, Jesus told us to do unto others what we would like them to do unto us (Matthew 7:12). Christians believe that to show mercy is to live out the truth of our lives: we can and must be merciful because mercy has been shown us by a God who is love. (I Jn 4:7-12). We cannot earn God's forgiveness. It is a gratuitous gift. It flows from God's mercy and compassion. But we can lose it when we jealously hoard the blessings that God gives to us. We can lose God's forgiveness when we refuse to share with others the quality of mercy, compassion and forgiveness we ourselves have received. Indeed the person who does not forgive is one who has never really experienced God's forgiveness. Those who truly belong to the household of God both experience and dispense the love of God through compassion and forgiveness on daily basis.
We owe a debt to God that is infinitely much more than the debt our neighbour (or even our enemy) could ever owe us. This is why in Jesus' parable on forgiveness we find such a big difference between the ten thousand talents owed the king by his servant and the one hundred denarii owed by the servant by a fellow servant. With sovereign majesty Jesus shatters all human calculations about the number of times an offence is committed, etc, and urges us to put no limitation at all to our forgiveness. The imperative to forgive always is not motivated with arguments from sociology or from any legal or ethical code of conduct. It is motivated instead by God's loving forgiveness of which we ourselves are beneficiaries. And regarding the measure is forgiveness, we are told that God is capable of forgiving absolutely everything. The sum of evil accumulated in the world is beyond reckoning. But God, moved with compassion, forgives the entire debt, and he challenges beneficiaries of this forgiveness to go and do the same.
Many Christians often think that the greatest miracles are those concerning the multiplication of loaves and the feeding of five thousand people, the healing of the blind, the lame and the lepers, the casting out of evil spirits, etc. Christians often think that the greatest gifts of God are those related to the wonders of Pentecost - the fire of the Spirit, the gift of tongues, etc. We often forget that the greatest demonstration of God's power and presence often come in calm and quiet. The greatest wonder of God, that is, the greatest miracle for us Christians is the miracle of God's love in Christ, Christ who died for us while we were yet sinners (Rom.5:8). The most graphic demonstration of this wonder of God's love, mercy and compassion, is shown on the cross of Calvary when Jesus Christ looked and his executioners and prayed: "Father forgive them for they don not know what they do." And the greatest gift which Jesus has poured forth upon the Church is the one related to the forgiveness of sins. He says in Jn.20:22-23 "Receive the Holy Spirit, for those whose sins you forgive, they are forgiven. For those whose sins you retain, they are retained."
John Paul II's Passionate Plea for the Practice of Mercy and Forgiveness
Pope John Paul II says that the practice of forgiveness is the only guarantee for lasting peace. In the Encyclical Dives in Misericordia which could rightly be described as a theological treatise on the mystery of God's mercy, the pope observes that the greatest weakness of the world today is its lack of mercy. He says there is a growing sense of justice in the world, and the Church shares the ardent desires of those who hunger for a more just society. Nevertheless, experience shows that negative forces, such as spite, hatred, and even cruelty, have gained the upper hand over justice. He says: "It happens that in the name of justice the neighbour is sometimes destroyed, killed, deprived of liberty or stripped of fundamental rights." He then declares that the experience of the past and of our own time demonstrates that strict (distributive) justice, by which we give to each his or her due, is not going guarantee peace for the human society. It can lead instead to the negation and destruction of the right (social) order.
If the deeper power of love, is not allowed to shape human life in its various dimensions, the mere pursuit of justice will not bring peace. The Pope then challenges the men and women of the world to go beyond strict distributive justice, to embrace love, which includes mercy, forgiveness and compassion. The Church he says must introduce the mystery of love to the world. The Church must promote the civilisation of love which includes mercy and forgiveness, for a world without forgiveness will be a cold world of endless tension, violence and strife. (See Dives in Misericordia, 12-15).
The Holy Father's Message for the World Day of Prayer for Peace (January 1, 2002), deals with the issue of forgiveness and justice. Coming shortly after the terrible events of September 11, 2001, the reprisal bombardment of and the overwhelming threat of terrorist violence in the world, the pope reflected on how to restore the moral and social order that is subjected to such horrific violence. He then declared that "the pillars of true peace are justice and that form of love which is forgiveness. He pleaded with Christians and to all men and women of good will to see that there is "no peace without justice" and "no justice without forgiveness."
He said there is no contradiction between justice and forgiveness. They are not irreconcilable. Forgiveness is not the opposite of justice, as if to forgive meant to overlook the need to right the wrong done. Instead forgiveness is the opposite of resentment and revenge, not justice. He noted that true peace is the fruit of justice, but because human justice is always fragile and imperfect, subject as it is to the limitations and egoism of individuals and groups, it must include, and as it were, be completed by the forgiveness which heals and rebuilds troubled human relations from their foundations. Thus, justice and forgiveness are both essential to true healing and wholesome restoration.
The Pope admitted that forgiveness is not a proposal that can be immediately understood or easily accepted. Instead, he said, it is a paradoxical message. He explained the paradox this way:
Forgiveness in fact always involves an apparent short-term loss, for a real long-term gain. Violence is the exact opposite; opting as it does, for a short-term gain, it involves a real and permanent loss. Forgiveness may seem like weakness, but it demands great spiritual strength and moral courage, both granting it and accepting it. It may seem in some way to diminish us, but in fact it leads us to a fuller and richer humanity, more radiant with the splendour of the Creator. (See L'OSSERVATORE ROMANO, 19/26 December, 2001).
During the Jubilee Year the Pope gave the world an example by asking for pardon for the past hurts and wounds caused by people who acted on behalf of the Church in its 2000 history. He also on behalf of every Catholic offered forgiveness for all the injustices the Catholic Church and its functionaries have suffered from others over the ages.
True, if there is one gift of God the world so dearly need in our day, plagued as it is by civil wars, religious and ethnic violence, social strife, violent crimes, and long-standing resentment, it is the gift of mercy, compassion and forgiveness. I agree with John Paul II that a world of revenge where each offender is punished according to his or her offence, will be a cold world of constant strife. Instead what we need is forgiveness. For it is only over the bridges of forgetful forgiveness that humankind will be brought together under the reign of the one merciful God. It is only through forgiveness that the perennial tension and sporadic violence between the Yoruba and the Hausa, the Igbo and the Yoruba, the Hausa and the Igbo, the Aguleri and the Umuleri, the Ijaw and the Ishekiri, the Modakeke and the , the Tiv and the Jukun, etc, can be permanently overcome.
It is only through forgiveness that exploiters and the exploited, that plunderers and the plundered, and that oppressors and the oppressed in the world and in our land can be fully reconciled. It is only through forgiveness that warring brothers of Anambra and Taraba states, and the fighting sisters of Oyo and Osun states can be brought together as children of one household of God. It is only through forgiveness that warring husbands and wives and the fighting mothers-in-law and daughters-in-law can once again know peace. It is only through the generous exercise of mercy, compassion and forgiveness that our fragmented national polity and global society will be finally reconciled, and lasting peace, unity, security and prosperity restored. For if we continue with the jungle law of responding to evil with evil, when will the circle of violence in which we are now held hostage ever end? If we respond to evil with evil, where will evil ever stop?
No doubt mercy and forgiveness are among the most fundamental values of the civilisation of love launched by Jesus Christ. Those who wish to be identified as Christians must take time out to think about this and begin to practice forgiveness, otherwise, on the last day they may be told: "I do not know you, go away from me you wicked men."
Conclusion: The Challenge before Christian Leaders
The true Christian believes that evil does not have the last word in human history. The true Christian believes that God knows how to transform all things unto good, and how to touch even the most hardened of hearts and bring good fruits from what seems utterly barren soil. The true Christian believer has no doubt in his or her mind that mercy and forgiveness are among the most fundamental values of Christ's civilisation of love. The true Christian believer acknowledges that with the virtue of forgiveness, past hurts and wounds, and bitterness and resentment over such hurts and wounds, could be adequately healed, and wholesome human relationships can once again begin afresh.
However the challenge of forgiveness is not only for Christians, but also for all peace-seeking men and women. It is a challenge that Nigerians must quickly summon the courage and take up, before the country collapses under the burden of long-standing mutual antipathy, divisions and violent conflicts. Individuals are in need of forgiveness. Families are in need of forgiveness. Ethnic groups are in need of forgiveness. Religious groups are in need of forgiveness. States too are also in need of forgiveness.
With so many un-addressed wounds and hurts over past injustices and inequities (as narrated above), our task of nation-building must begin with an elaborate programme of, and an honest commitment to the building of a peaceful society through the preaching of justice and forgiveness. We must be resolutely committed to this task, or else our new preoccupation with democratic governance will lack the much needed foundation, and end once again in disaster. The Christian Church in must learn to feel the pulse of the nation, to hear the cry of the people, and to react with utmost sense of responsibility. We must be united in preaching the message of unity and peace that is based on mutual forgiveness for past hurts and wounds, and a mutual commitment to righting the wrongs of the past, and building our society on justice and fairness.
In our kind of circumstances, the marriage of justice and mercy may not be an easy task. But Christian leaders are the ones to champion this noble cause. We must play the role of sentries, visionaries and dreamers even as the dominant culture pursues the culture of death and destruction. We must urge everyone to do an examination of conscience; to courageously address the hurts and wounds of the past; to offer forgiveness for these hurts and wounds; and to ask for forgiveness for those injustices which they have caused others. Finally, we must urged everyone to let justice, equity and fairness, sustained by love and mutual respect, be the foundation of the peace of our dream.
February 2002