5bic Assignment 2014 Super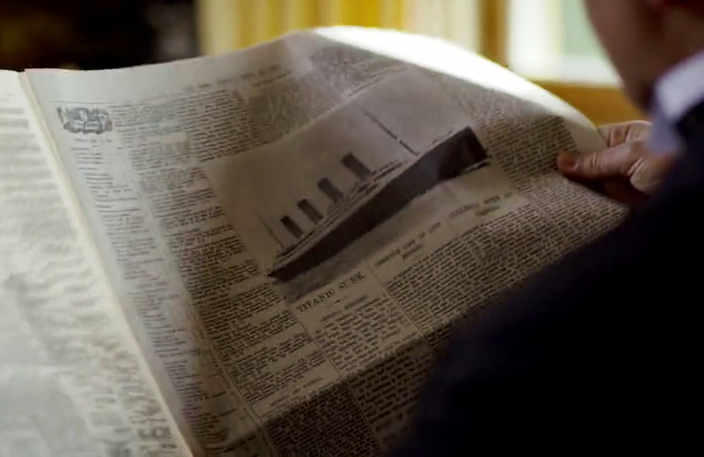 News of the sinking of Titanic still resonates with us today (photo ITV).
The 100th anniversary of the sinking of the Titantic is approaching on April 14, 2012.   As a professional marketer who loves a great promotion, I will bet that this year will see a flurry of fabulous events hosted in cities around the world.  As a foodie I see it as another way to gather and entertain friends.  Food lovers have been hosting dinners for years, but if you want to host a party of our own, this would be the year to do it because of the anniversary.  Ironically, Titanic is on the minds of many with the photos and videos circulating about the January 13th grounding of the "unsinkable" Costa Concordia.  Downton Abbey fans may also feel a new connection to Titanic for a couple of other reasons.  The show opens with news of the sinking of the ship which directly affects the Crawley family.  Fans of Julian Fellowes will be hungrily anticipating the release of the new itv series Titanic 2012, which will start airing in this Spring in the UK.  It is fortunate that menus survived the disaster, and I hope my blog will help you in your preparations.  Come to this page to keep track of the First Class Menu.  I also have the separate menus for 2nd class and third class or "steerage".   I attended a steerage party years ago and it was a blast.  If you see red text, that means I have linked to other posts with my favorite traditional recipes.  I hope you can handle some of the items such as celery and boiled rice and potatoes on your own.
The tradition of these meals is to pay homage to the passengers and crew who were aboard Titanic.  If you sadly miss the big day, don't despair, you can take comfort in some fabulous Edwardian dishes which you can fit into any dinner party, even a Downton Abbey viewing party.
Continue reading »

Petit déjeuner vegan gourmand.
Un pancake détourné: tout d'abord délicieux, et pour les intéressés ou pas, totalement vegan et sans gluten. Croustillant, moelleux, léger. On vous demande juste d'aimer ce parfait mariage banane-coco. Il n'y a finalement plus grand chose en commun avec le pancake classique à part les 3 rondelles de banane en déco!
Pour 1 gros pancake à partager ou 1 personne gourmande
• 2 c à s de noix de coco rapée
• 1 c à s de farine de riz bombée
• 1/2 c à c de bicarbonate de soude
• Environ 8-10 cl de crème de coco pour lier la farine et la noix de coco. Si le lait ou la crème de coco est séparée en eau et graisse solidifiée, il faut la tiédir pour obtenir une crème lisse. (j'achète des briques en magasin bio: coco cuisine de la marque Isola bio)
• Un peu de sucre de coco, de rapadura ou de miel doux (1 c à c)
• 1/2 banane écrasée
• Un peu d'huile de coco pour la cuisson
→ Mélanger tous les ingrédients à la fourchette dans un grand bol puis ajouter la 1/2 banane écrasée.
→ Faire chauffer une poêle anti adhésive avec l'huile de coco
→ Répartir soit dans toute la poêle si elle est petite (20 cm) soit en plusieurs petits tas si la poêle est grande. La pâte doit être comme crème épaisse. Si vous avez le temps laisser reposer 5-10 min, la coco rapée se réhydrate.
→ Laisser cuire 5 min de chaque côté. Attention c'est un peu cassant lorsqu'on les retourne. La version en plusieurs petits pancakes est plus facile à manier pour la cuisson.
Servir encore chaud avec quelques rondelles fines de banane dessus.
J'ai commencé à faire cette recette et à l'écrire il y a quelques mois et les répétitions ont été multiples. Hier m'est venue une nouvelle idée et un détournement radical de ce faux pancake! Grâce à un potentiel invité intolérant au gluten (qui n'est pas venu mais merci quand même!) je l'ai transformé en tarte au fruit de la passion – genre lemon curd en utilisant de la purée de fruits avec ces mini pancake comme fond de tarte. Pour les amateurs de ces parfums je vous laisse imaginer l'association coco banane passion…
Publié dansCuisinez !, Sucré | Mots-clés :breakfast, gluten free, noix de coco, vegan |